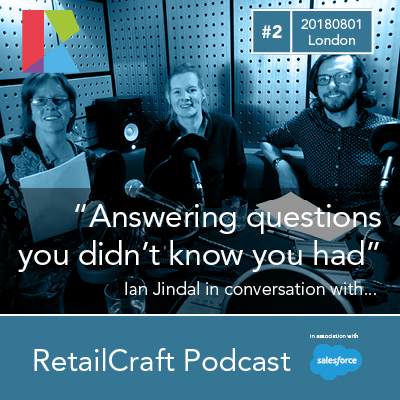 A half hour's discussion on the people behind the performance in multichannel retail.
Sarah Stagg, Director of Digital at The Rug Company,  joins Ian Jindal in the studio, along with Martin Shaw, Head of Research at RetailX, Emma Herrod, Editor of InternetRetailing Magazine and Jamie Merrick, Director Industry Strategy and Insights at Salesforce.
We were keen to chat with Sarah having seen her work at Debenhams, then House of Fraser, and Sarah gave us an eye-opening view on the intricate, interesting and inspiring world of selling very expensive, desirable, custom rugs - online, in-store, and B2B custom - plus discussion how they are an innovation company.
Martin gives us the skinny on the newly-released 2018 European Top500 ranking of multichannel retailers and brands, the IREU 2018 (now available online and free to subscribers at
Emma Herrod looks at the online beauty sector, and in particular the trend of online-first brands opening stores.
38 minutes run-time.
Information:
Sarah Stagg: https://www.linkedin.com/in/sarah-stagg-9325bb15/   
Jamie Merrick: https://www.linkedin.com/in/jamiemerrick/
Emma Herrod: https://www.linkedin.com/in/emma-herrod-5769472/
Ian Jindal: https://www.linkedin.com/in/ianjindal/ and www.twitter.com/ianjindal
Recorded on location in London, UK at Spiritland Studios. Episode photo credit: Andy James.
We reference the IREU 2018 report and the March 2018 issue of InternetRetailing Magazine, with cover interviewee Savannah Sachs, (then) Managing Director, UK of Birchbox and now CEO of Tula.
https://internetretailing.net/ireu
https://internetretailing.net/magazine/internetretailing-magazine--march-2018